About Eric Francis Coppolino
Contact: New York Broadcast Studio (845) 331-0355, from 8 am to 8 pm East Coast time, or email [email protected] to get on our press list. For off-hours contact please call (845) 797-3458
---
Internationally accredited, widely-published investigative reporter Eric Francis Coppolino offers a clear, original analysis of world events through the lens of astrology. He's been reporting on breaking news stories as an astrologer since 1995, covering elections, new legislation, aviation, terrorism and the charts of newsmakers.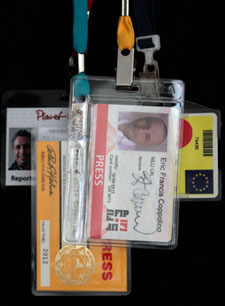 Eric is available to comment for print, internet, radio and TV on current and historic news events, as well as stories directly involving astrology or cultural astronomy. He is a specialist on astrology in the media, new planetary discoveries and psychological astrology.
He began his career as a municipal and business reporter. Eric's investigative reporting, focusing on corporate fraud and environmental crime, has been carried by Sierra, The Village Voice and The Las Vegas Sun. The New York Times said that Eric "has a hunger for government documents that rivals that of Seymour Hersh."
His urbane, articulate horoscopes (available in syndication) have been carried in newspapers throughout England, Australia and the U.S., including in Harper's Bazaar, the Daily Mirror and the Daily Mail. He is the astrology columnist for the Omega Institute for Holistic Studies. Thanks to his eclectic background he is able to uniquely assist clients situated in positions of corporate and government leadership.
As the world's only investigative reporter-astrologer, Eric's grounded but visionary approach has caught the attention of astrological experts and newcomers alike, and has assisted many journalists previously unfamiliar with astrology. Here are a few recent quotations from articles and interviews, a recent edition of Planet Waves that analyzes the charts of RMS Titanic and demonstrates what is possible when astrology and disciplined reporting are used together.
Eric Francis, who is based in New York, said he's weary of the endless skirmish between astronomy and astrology. "When astronomers make fun of us, they're making fun of the human suffering that leads people to seek answers," he said. "People do get comfort and wisdom from astrology — and science gives us Prozac."

— Associated Press, with Bill Ward, Minneapolis Star-Tribune, 2011.

"This is a moment that I've been waiting for a long time," says Eric Francis, a minor-planet astrologer who edits the Web site Planetwaves.net … "Most of our clients are women, and we need stories women can relate to."

— The Wall Street Journal, 2006 front page article.

"Reading the chart is an interpretive art, much like writing poetry. Every aspect or pattern in the chart is going to be interpreted differently by every astrologer. I understand the role of creativity in the process. What to one astrologer may look like a problem to me looks like an opportunity, but that requires a creative leap."

— Artful Mind magazine, 2011 interview

"The astrology you get is only as good as the astrologer who is doing the work: their skill and commitment and writing talent. It's silly to dismiss as fluff a system of organizing life dating back to the dawn of civilization (the Chaldeans or Babylonians). Astrology is a foundation of mainstream intellectual thought. With mythology, it's the first true study in psychology."

— Generation magazine, 2010 interview

"The virtual world to some extent demonstrates that there is existence beyond the body, as does astrology — we're overcoming this belief that everything is strictly limited by physical reality. To get into virtuality we need these interconnective devices … Without the need to use any equipment at all, astrology can demonstrate that we're all part of the same reality, and that communication extends beyond the body and the known senses. We try to emulate this with all of our technology."

— Interview with Savas Abadsidis, 2010
Recommended Article: What's Your (Pluto) Sign, Baby?
Credentialed as a photojournalist by: National Union of Journalists (NUJ) of the UK, the International Federation of Journalists (IFJ), the European Commission and the State of New York. Planet Waves is registered as a news agency with the European Commission, the Benelux Area, the State of Washington and the United States Patent and Trademark Office.