Planet Waves TV: What do you mean when you say, "I am"?
In this week's Planet Waves TV, I look at Sunday's Virgo Full Moon that takes place in aspect with Chiron and Pallas. But mostly, I look at the Uranus-Eris conjunction in Aries that is exact on Friday, March 17 -- the aspect that's defining our era of history.
---

An Actual Tradition: 19 Years of the Planet Waves Annual
Each year at this time, I am busy creating the Planet Waves annual edition. It's an Internet tradition but it's also a tradition in my life. I also consider it an invention: a way to get you a solid, detailed and authentic astrology reading, with information that makes a difference in your life -- astrology that you remember and come back to -- for a very modest fee.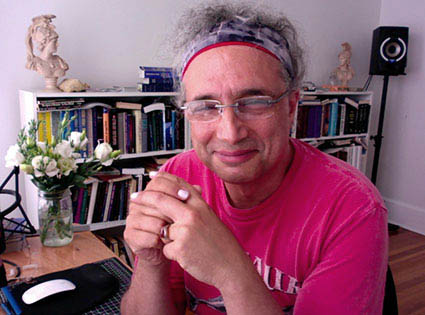 In the Planet Waves FM/TV studio area.

Every year is a fresh reading with a new perspective, taking up the astrology of the moment. After many years of research and practice, I am able to use current transits and get more detail than most astrologers are able to get with a natal chart.

The Planet Waves annual is one of a kind. There is nothing else like it in the business: an alive, immediate, accessible reading of the astrology that is happening right now and in the coming few seasons. The readings work for your Sun sign and your rising sign. This is not astrology for the personality: this is astrology oriented on your deepest spriritual growth. I bring all of my learning, all of my talent and more than 10 hours per sign to these readings.

I write with the intention of being motivational and inspiring, as well as factually informative about the astrological influences you will actually experience. I also think of it as a kind of yearbook, recording the story of our moment, the issues that were occupying our thoughts, and the breakthroughs in astrology and astronomy. Every annual is created taking into account the newest planetary discoveries of the era when it was created.

---