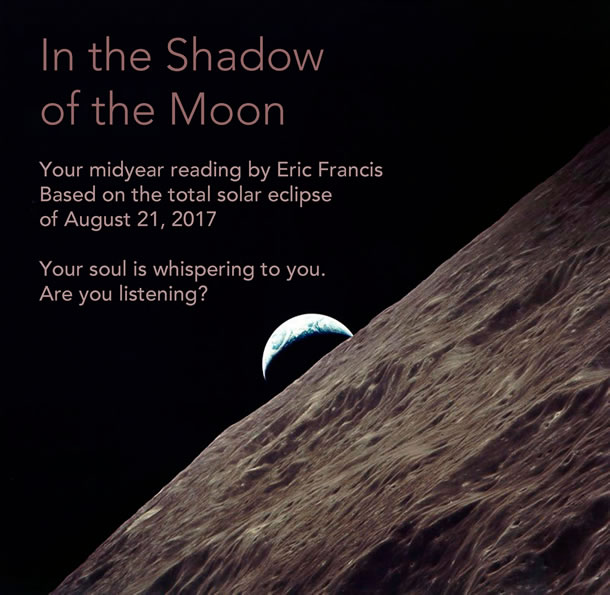 Just in time for the Great American Eclipse of Aug. 21, 2017, you'll have access to a helpful, excellent video astrology reading. These will be done by sign and rising sign; each reading is about half an hour.
You can pre-order now for the best price
: $66 for all 12 signs. The price for all 12 will gradually increase in $11 increments over the next few weeks, capping out at $111 once we publish.
I've been a devoted student of eclipses since beginning astrology. Here's some of my earlier writing, published before the grand cross and total solar eclipse of Aug. 11, 1999. These few paragraphs below will give you a feeling for just how significant eclipses are. This one is one of the most important in American history,
which I've covered here
.
Eclipses are astrology we can't deny. If there is a conjunction between Saturn and Uranus, it's invisible, and while many people may experience changes, only astrologers and their merry bands of readers and students know what's happening. Yet when the Sun vanishes, you can be sure that normal activity will come to a stop.

Our busy world will pause, and everyone, from herbicide activists nestled in the hills of Oregon to rock stars in Nashville, will stand in the silent shadow of the cosmic order with the astonishment of small children coursing in their hearts.

Read more...
You can pre-order now for the best price
---
Spring Reading Written Previews of the 12 Signs
ARIES Preview | TAURUS Preview | GEMINI Preview | CANCER Preview | LEO Preview
VIRGO Preview | LIBRA Preview | SCORPIO Preview | SAGITTARIUS Preview
CAPRICORN Preview | AQUARIUS Preview | PISCES Preview
---