Use this link if you're listening on an iOS or mobile device. Download MP3.
---
Our 2018 annual, The Art of Becoming, is almost complete and is getting amazing reviews. Order all 12 signs here to read your Sun, Moon and rising sign and those of loved ones, or choose your individual signs here.
---
Hey Pisces: This year, Chiron begins the process of leaving your sign and entering Aries. Pre-order your 2018-19 Pisces Birthday Reading by Eric to find out how you can harness the power of this important change in your life.
---
Dear Planet Waves Listener:
Tonight's Planet Waves FM [play episode here] features an interview with Gerald Casale, co-founder and bass player of the rock group DEVO. This show originally aired live Sunday night on Planet Waves AM/FM on Radio Kingston.
Just before the show started, I was fortunate enough to hear also from Laurel Krause — the sister of Allison Krause, one of the four students who were killed during the Kent State University massacre of May 4, 1970.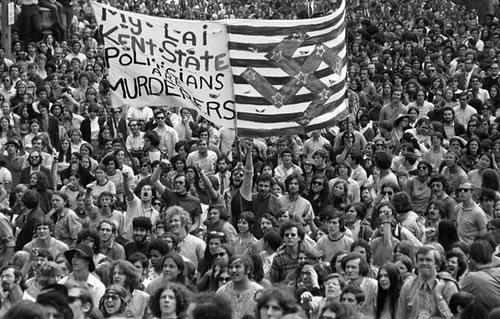 Laurel describes the pain of her loss, and how she has worked for healing. She tells her story of her family's litigation against the state of Ohio, up to the Supreme Court.
Jerry was eyewitness to the Kent State shooting. He was so close that he saw a friend get shot, and nearly took a bullet himself. In this program we will be linking that shooting — an official government job, carried out by the National Guard — to the seemingly endless rash of mass shootings in the U.S.
While it may seem like these are all random acts, they have two things in common: an official government policy called the 2nd Amendment, which is perversely being used as a rationalization for arming the people who commit these crimes; and the suspension of the assault weapons ban, after which the rate of the shootings increase exponentially.
We consider the NRA as a terrorist organization, which presents a direct threat to a civil society and our Republic.
We consider the ways that law enforcement, from the local police and sheriff to the FBI, is standing down, not standing up to these murders.
Jerry is on the show the first hour; then I speak with Laurel Krause. Read Jerry's speech on the 40th anniversary of Kent State here.
Please join me for tonight's Planet Waves FM, produced by Chiron Return.
With love,



Readers Say This Is Our Best Annual Reading Yet
Tap or click to visit our most beautiful website ever.
"As always, the reading comes at exactly the right moment. The divine timing serves to remind me of how connected I am: my 'work' is a joyous extension of who I am; my deeply held spiritual beliefs are part of my every day life; I am strong and trusted."
— Jennifer, on the Art of Becoming annual readings
Dear Friend and Reader:
We recently published The Art of Becoming reading for Capricorn. This means that the Art of Becoming reading is now nearing completion, and is almost fully available for instant access — whether you purchase one or two readings individually, or go all-in and order all 12 signs to share with your household.
We anticipate having Aquarius — the final reading — up soon. Please note that there are materials on this page, including some prior readings for review; as well as videos that go with The Art of Becoming series, located on the front page.
"I just wanted to say thank you for The Art of Becoming. As usual I have so enjoyed your writing and your insight and I have my fingers crossed that as a Taurus and reading the effects of Chiron, I can go with the flow and change my life for the better."
— Marissa on the Art of Becoming reading for Taurus
If you have any questions, please email us at cs@planetwaves.net. Or call from within the U.S. at (845) 481-5616, or from outside the U.S. at (206) 567-4455. If you leave voicemail, please be sure to leave your number in the message, and we'll call you back as soon as we can.
Thank you so much for your continued patience and goodwill as we work to deliver these readings.
Yours & truly,



Amanda Painter
P.S. Here's what others are saying about The Art of Becoming:
"Dearest Eric, I just wanted to acknowledge how beautifully insightful your work always is and how moved I was reading your essays. Thank you so much for continuing to be such a guiding light along the way. Much love and appreciation."
— Maureen, on the Art of Becoming annual readings
"The leadership aspect of what you offered really assists me to understand what my being is up to in the world of work. True, it is rarely discussed in astrology in this way for Cancer. It is not always an easy road, but it is certainly not dull. This year I have shifted direction and am discerning what parts need to come with, and what needs to be left as no longer required. This is across relationships, views, methods and tribes. Your articulated integration of the various dimensions influenced through the realms is a gift and valuable resource in curating the conditions required. Received with gratitude."
— Rebekah, on the Art of Becoming annual reading for Cancer
"I am deeply appreciative of your integrity and the depth from where your being resides. Many blessings on your path."
— Desiree, on the Art of Becoming annual readings
"I will put this in a very safe place, and reread it over the coming days, weeks, months. This has been an extremely tough beginning of the year — it seems that I'm no longer being allowed to play out my life without really addressing what/who runs it from the shadows. You write about all this so brilliantly. Thank you for this stunning reading, dear Eric, for your extraordinary insights, wisdom and guidance."
— Liz, on the Art of Becoming annual readings
"Thank you, Eric, this reading is exquisite in its most absolute form. My sense of where my life is heading is reflected back to me in this annual with such elegant cohesion; your writing simultaneously feels to be a healing balm and a road map to a territory unknown except for the consistency of its beckoning."
— JeanMarie Murphy, on the Art of Becoming annual reading for Gemini
---
"I'm proud (yet humbled too, if that makes sense) to be a member of the Planet Waves community. You cannot pay enough anywhere for the quality — and quantity! — of astrological journalism found at Planet Waves. I devour everything; because of it the world and my own universe makes more sense. I've been a student of astrology for more than four decades, yet every day I learn something new and important on PW."
— Lesley Doetsch PhillipsWe offer the most helpful, illuminating and practical horoscopes you've ever read; this is more like life-coaching that's relevant to your actual life, at a fraction of the cost.
Become a Planet Waves member today
.