Kent State: Granddaddy of All School Shootings
Scene on the lawn at Kent State University, May 1970.
Originally published Feb. 27, 2018. Originally broadcast on WKNY Radio Kingston.
Use this link if you're listening on an iOS or mobile device. Download MP3.
Dear Planet Waves Listener:
Tonight's Planet Waves FM [play episode here] features an interview with Gerald Casale, co-founder and bass player of the rock group DEVO. This show originally aired live Sunday night on Planet Waves AM/FM on Radio Kingston.
Just before the show started, I was fortunate enough to hear also from Laurel Krause — the sister of Allison Krause, one of the four students who were killed during the Kent State University massacre of May 4, 1970.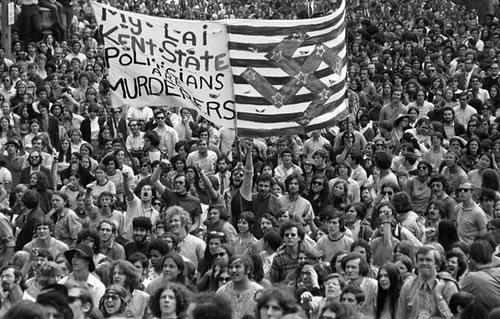 Laurel describes the pain of her loss, and how she has worked for healing. She tells her story of her family's litigation against the state of Ohio, up to the Supreme Court.
Jerry was eyewitness to the Kent State shooting. He was so close that he saw a friend get shot, and nearly took a bullet himself. In this program we will be linking that shooting — an official government job, carried out by the National Guard — to the seemingly endless rash of mass shootings in the U.S.
While it may seem like these are all random acts, they have two things in common: an official government policy called the 2nd Amendment, which is perversely being used as a rationalization for arming the people who commit these crimes; and the suspension of the assault weapons ban, after which the rate of the shootings increase exponentially.
We consider the NRA as a terrorist organization, which presents a direct threat to a civil society and our Republic.
We consider the ways that law enforcement, from the local police and sheriff to the FBI, is standing down, not standing up to these murders.
Jerry is on the show the first hour; then I speak with Laurel Krause. Read Jerry's speech on the 40th anniversary of Kent State here.
Please join me for tonight's Planet Waves FM, produced by Chiron Return.
With love,