The Mystery and Physics of World Trade Center Seven
Use this link if you're listening on an iOS or mobile device.
---
Even by contemporary standards, 2018 is a distinctive year astrologically. Many slow-moving planets change signs between now and this time next year. In the reshaped world that follows, the 2018 Planet Waves Annual by Eric, The Art of Becoming, will help you design your own future. You may pre-order all 12 signs here for just $99.
---
Hey Scorpio: Jupiter in your sign is a truly fortunate transit. What will you make of this opportunity? Your 2017-18 Scorpio Birthday Reading by Eric will help you channel your energy in deeply productive ways. Pre-order your reading today.
---
Dear Friend and Reader:
This is the latest episode of a show named Progressive Spirit, hosted by John Shuck, which is on the Pacifica Network. It's the fifth in a series of podcasts on the 9/11 attacks.
Shuck speaks with David Chandler, the high school physics teacher who made NIST, the National Institute of Standards and Technology, revise their report on the destruction of World Trade Center Building 7, a 47-story building that collapsed in the late afternoon of September 11th, 2001. David Chandler showed that Building 7 fell at free fall; that is, the acceleration of gravity.
You may read my 2010 article on WTC 7 and the 9/11 attacks at this link.
Here are the previous four episodes in this series, if you're interested:
1) Why Good People Become Silent (Or Worse) About 9/11
2) How Bush and Cheney Ruined America and the World
3) The Science Behind the Collapse of the Three World Trade Center Towers on 9/11
4) Graeme MacQueen | 9/11: The Pentagon's B Movie
With love,


---
Growth Is Inevitable. Becoming Is an Art Form.
Dear Friend of Planet Waves:
Here's the thing: Life goes on. No matter how crazy the world is, we who are alive must keep on living. And that means we must keep growing and becoming.
The more chaotic the world becomes, the more we need a tool that can help us spot the patterns in the chaos — and that would be astrology. I have long considered astrology just one resource among many potentially useful ones, though with each passing day, the gift of pattern recognition, and how these patterns relate to our lives, is a service that astrology is uniquely suited to provide.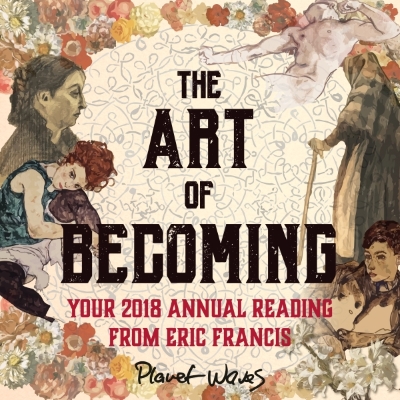 I have begun preparing THE ART OF BECOMING, the 20th annual edition of Planet Waves. This letter will tell you more about the project, which, if all goes reasonably well, will be delivered during the month of January.
Brief note on pricing policy: we offer the best price for those who purchase sooner. The current price point is $99; this will be increased again soon to the final pre-order price of $111.
My annual readings provide not only insight but spiritual and psychological leverage. I am not here to predict the future, but rather to help you design your future.
The project began as an extended January monthly horoscope; it's now more like an astrological novel, written with the pacing and detail of well-crafted fiction writing. My focus is on love and work: your relationship to yourself, followed by your relationship to others; your professional activities, financial matters and tapping your creativity.
In the end, I consider myself a motivational presenter. I see my job as helping you get excited about your own potential, and describing the specific ways you can manifest your desires into reality.
In the next section, I will describe some of the transits I'll be writing about in THE ART OF BECOMING. I present these events in human language, using technical terms only as necessary — and explaining everything as I go. As a journalist, I write to be understood.
This is astrology written for humans, in human language, using concrete examples and images.