A Celestially Auspicious Occasion
---
Today's edition of Planet Waves FM is doubling for daily astrology (which is covered in the first 15 minutes of the program).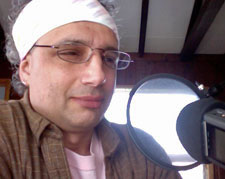 This is a fantastic edition, featuring an interview with Donna Henes, author of the book Celestially Auspicious Occasions. Donna knows a lot about the natural holidays — the equinoxes and solstices, as well as the cross-quarter days (the Pagan high sabbats). We're now in the season of Beltane so this is the perfect time to have her on the program.
Donna is also the author of Dressing Our Wounds in Warm Clothes and The Queen of My Self: Stepping into Sovereignty in Midlife. I will let this program speak for itself.
Here is your program in the old player, where you'll find the full archives and a downloadable zip file.
Thanks for tuning in.
Did you know that Planet Waves offers you a variety of astrological readings for every sign in audio format including birthday reports? You're invited to check them out in our audio store. If you'd like access to Eric's weekly and monthly horoscopes, visit this link to access your free trial to our premium twice-weekly astrology service.