LISTEN 2013 Astrology Readings by Eric Francis, covering All 12 Signs are Open Access This Week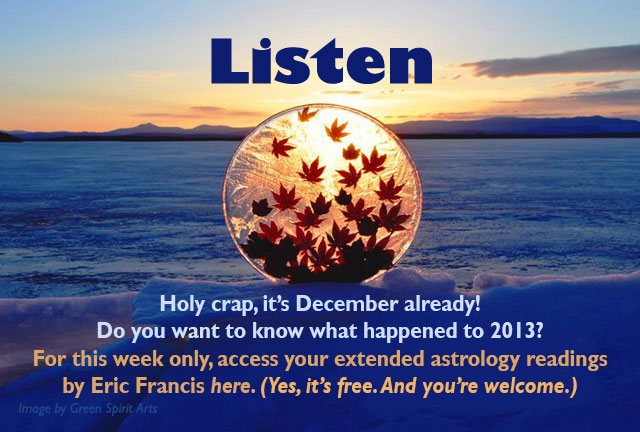 Dear Friend and Reader:
Today we removed the passwords to LISTEN, the 2013 annual edition. Through Sunday, December 15, you may access your in-depth astrology readings as our gift to you. Now is your chance to look in on what Eric said about your sign(s) for 2013 and beyond.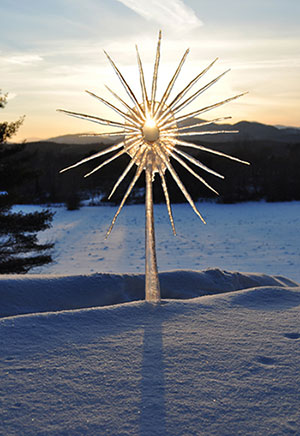 Based on how Eric does this kind of detailed astrology, we recommend that you check out the reading for your rising sign and your Moon sign in addition to your Sun sign. If you don't know your Moon and rising signs, you may look them up through a free chart service (we recommend Serennu.com). Or, you may email me your date, time and place of birth and I'll look them up for you
If you're new to Eric's annual editions, this is a great introduction to his most popular in-depth readings. The feedback from this year's readings show how personally relevant, informative, and affirming these reports are:
"This a comprehensive and expansive interpretation which I would highly recommend."
"Eric — I should be used to your brilliant horoscopes by now. But don't think it can get any better than this. Haven't got to the listening part yet — but was so bowled over by the written part that I had to stop and thank you. I kept taking out pieces to copy and paste, but gave up in the end — there were so many!"
"It never fails to amaze me how an analysis meant roughly for one twelfth of the population of the earth jives so closely with my personal experience and my personal astrology."
"Eric, I have relied on your annuals for several years to help me navigate these intense transits. Your interpretations are spot on and I can feel the truth resonate as I read my sign interpretation. I have successfully been able to create change in my professional life rather than wait for it to happen to me. I've enjoyed being able to express creativity and vision at a time where most would say my profession (teaching) offers few opportunities for either."
Eric's annual editions (a sixteen-year tradition!) have become some of the best-loved astrology readings we offer, and they happen to be my personal favorite.
So what are you waiting for? Access your 2013 astrology readings as our gift.
And when you're done reading and listening, you may pre-order your 2014 astrology (called The Mars Effect) for a special price of $19.95 per sign(a $10 savings!). On Wednesday, Dec. 18, the price will go up to $29.95 per sign.
Yours,


Chelsea Bottinelli
PS — Planet Waves members receive special discounts on all of Eric's readings, including a package deal for all twelve signs of The Mars Effect. If you don't currently receive our twice-weekly email service, you may sign up for a free one-month trial membership here.