Planet Waves FM: What Happened in France?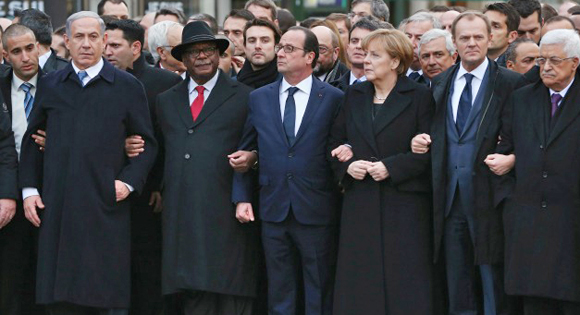 Use this link if you're listening on an iOS or mobile device.
---
Planet Waves FM is presented free from commercial interruption.
---
Here is my introduction to Cosmophilia: You Belong Here, the 2015 annual edition of Planet Waves, which is now available at the best pre-order discount rate. Here is my latest letter introducing the project and offering signs for individual sale.
---
In tonight's edition, I look at the Charlie Hebdo massacre from several different angles — why it is that we're confronted by tragedies like this over and over; the real state of "free speech" in France; the absurd hypocrisy of leaders from across Europe posing for a photo supporting free speech (while most of them prosecute journalists); and the astrology of the incident and what it says to me.
At the top of the program I give an overview of the current astrology including the Sun's last days in Capricorn; Mars in Pisces and Mars conjunct Neptune; the Sun ingressing Aquarius, the Aquarius New Moon and Mercury retrograde in Aquarius. Did I say Aquarius?
My musical guest is Old and In The Way, a side project of Jerry Garcia wherein he dusts off his old banjo and takes it out for a spin, alongside Dave Grisman on mandolin, John Kahn on bass and Vassar Clements on fiddle.