This is Your Brain on the Internet
Use this link if you're listening on an iOS or mobile device.
---
Want to unlock the most important secrets of an astrology chart? Eric's best astrology mentors told him: "It's all in the houses." Eric's all-new class on Saturday, Oct. 8 will illuminate the most grounded part of the zodiac. You may sign up here.
Jupiter is now in Libra, alongside the Sun and in an interesting relationship with Saturn. If you're Libra Sun, Moon or rising, that means it's time to pre-order your 2016-17 birthday reading by Eric and grab your essential guide to the year ahead.
---
Dear Friend and Listener:
In tonight's edition, I consider the question of cohesiveness. Inspired by Donald Trump's performance at Hofstra University last night, I've taken a gander (with the help of Andrew McLuhan) into what all this gibberish is about. My observation is that it's about the internet.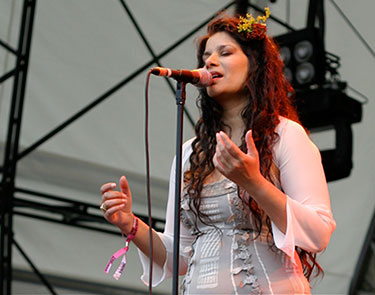 Capital of non-relational information, the library without a catalog, where the house game is 52 Card Pickup: we can thank internet consciousness for the rise of a political candidate who makes no sense whatsoever.
Before I go there, I consider the current astrology — in particular Mars in Capricorn, and its relationship to Pluto in Capricorn, and Jupiter in Libra.
In the second segment I do an analysis of who won the debate and why. If you're the kind of person who likes things to make a little sense and believes that the pages of a book should be numbered, Hillary Clinton won. If none of your thoughts connect and you don't believe in logic, reason or rationality, Donald Trump cleaned up.
In the third segment I play my interview with Rosetta Star, one of our friends in Asheville, NC, who recently took a bunch of her friends, her oldest kid and a trailer of equipment up to the protest in Standing Rock. There, 280 Native American tribes are blocking a tar-sands-oil pipeline and are in for the long haul. You may also read Amy Jacobs' coverage here.
My musical guest is the magnificent mystic of music, Sheila Chandra.
Thanks for your membership support — thanks for tuning in.
Lovingly,


PS — You may find a list of my coverage of Uranus-Eris and the internet at this link.
---
Make the Houses Your Home with Eric's Upcoming Class
"Eric is a gifted teacher, fascinating story teller, with an incredible base of both knowledge and experience that draws one in. Combined with patience and a gift for translating subject matter into very understandable terms, the class was great."
— Sally Crawford, on a previous class
Learning the houses takes NO technical knowledge: it's all about life. The houses are the easiest, most grounded and most useful element of astrology, describing themes and physical environments.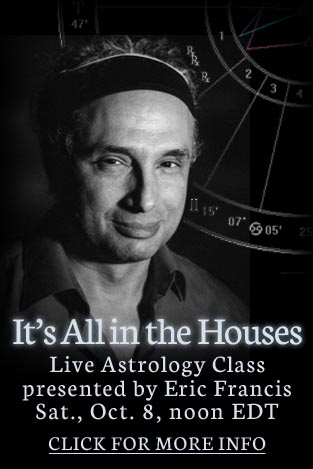 Once you have a grasp on how the system is organized, astrology suddenly becomes possible on a whole new level.
If you've been feeling like you just can't quite get your chart (or those of others) to sing, chances are that getting acquainted with the houses is the missing piece of the puzzle you've been waiting for.
As horoscope maestro Patric Walker said to Jonathan Cainer, who said it to Eric, "It's all in the houses."
A passionate teacher can make material come alive, and Eric is truly excited about teaching this class.
"Thank you, Eric, for continuing to have these classes! They are wonderful."
— Stacey Katz
It's All In the Houses will be held via teleconference Saturday, Oct. 8 from noon EDT to 4 pm EDT. The class will be recorded, so you may be present or listen later. There will be a video preview that explains the basics, which will come out a few days before the class.
You may sign up here. If you need a reduced rate, we will gladly help you out — please write to us at [email protected]. Note: if you are a Backstage Pass or Core Community member, you should have received your member discount by email last week — please get in touch if you need that information again.
---
Open the Door to Your Life with Your Libra Reading
Dear Friend and Reader:
How do you invoke the 'luck factor' of a Jupiter transit? For starters, you have to be willing to do your part. Think of it like opening the door so that a fresh breeze (or a dear friend) can come in.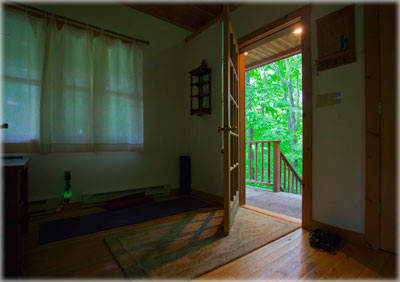 That door is the door of opportunity; something that often opens best when a person has done a little groundwork to prepare, takes the time to listen to their intuition and then acts.
Do you need some assistance seeing the doors in your life and knowing the best way to open them? Jupiter in Libra is offering you beautiful potential this year! How will you use it? Are you ready for it?
Eric will describe solid ways you can make the most of Jupiter in Libra — and much more this year — in your 2016-17 Libra Birthday Reading.
In two segments of audio and a video tarot reading, Eric will guide you through the subtle nuances, complex puzzles and in-your-face 'big stuff', motivating you to navigate the next 12 months with grace and chutzpah.
Best of all: if you pre-order your Libra Reading for just $19.97 today, you'll lock in the lowest price we offer.
Note: Your birthday reading is distinctly different from BALANCE: the Midyear Reading. While that was a 12-sign project focused on paired signs, your birthday reading goes into greater, more focused depth, describing longer-term influences on the Libra experience from several directions.
You could pay $100 for a reading elsewhere and not get a fraction of the practical insight offered in Eric's audio-video readings. So go ahead: pre-order your reading, open the door and turn your opportunities into something with lasting value.
Yours & truly,



Amanda Painter
Planet Waves Astrology Editor