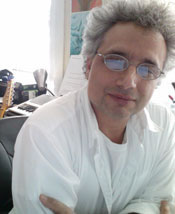 I've just finished this year's last (regular) edition of Planet Waves FM. I recap some of what happened in 2011 and how far we've come in a year — from the Tucson shootings to Fukushima to Occupy — and how this is just a warmup for 2012.
You'll get some hints about 2012 astrology, deepening the discussion of Uranus square Pluto. This is the 2012 aspect, part of the epochs of revolution that we've been describing for so long.
For the song break, I reprise the song Fingers by Roxy Rawson, and take a look at her natal chart. Then I look at the super interesting current astrology, including Sun conjunct Pluto in Capricorn, and Mercury conjunct Pholus. All in all, this podcast might be a pleasant way to spend an hour, worth it entirely for Roxy. I've just looked at her website — she's raising money to mix and master her first CD. If you're someone in a position to help out — I am sure she would be most grateful for that.
This is the last regular edition of Planet Waves FM but I'll see you later in the week with the last installment in the Top Five Events of 2012.
Here is your program in the old player, where you'll find the full archives and a downloadable zip file.
Lovingly,

Note to readers — there are many more podcasts, the full archives, recordings and interviews from astrology conferences and much more at the Planet Waves FM homepage.