Levon Helm, Singer for The Band, Returns to the Earth
One of the most memorable voices in rock music is gone — Levon Helm, the Arkansas-born drummer and mandolin player for The Band. He died of throat cancer, which he'd been battling since the late 1990s.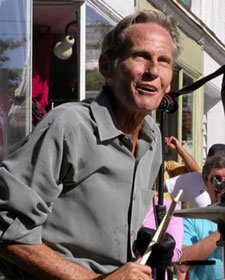 Helm was the lead vocalist on some of The Band's most memorable songs: "The Weight," "The Night They Drove Old Dixie Down" and "Up On Cripple Creek." Helm was the one American in an otherwise Canadian emsemble.
His wife and daughter said in a statement Tuesday that Helm was "in the final stages of his battle with cancer," and requested the prayers of his fans. He died early Thursday afternoon in New York City, after a hospital stay in Kingston, NY. He died about two hours after the Sun entered Taurus.
Helm was a Gemini, with a lot of Taurus to back it up. That takes the clear, flexible quality of Gemini and puts substance behind it. He had a chart similar to his former bandmate Bob Dylan.
I've noticed something about Gemini musicians — they are gifted musical shapeshifters, whether that means playing many instruments, being able to blend into any style they want, or being gifted session players. Helm was all of the above, and he played drums, percussion, mandolin, banjo and harmonica — in addition to being what one writer described as the Voice of America.
When I cast his noon chart — his birth time is not available — it came out with Virgo rising, and Ceres, an agriculture goddess, is rising immediately in the east. He grew up on a farm, and his last two albums were Dirt Farmer and Electric Dirt. He sang the famous line, "I swear by the mud below my feet." Ceres was indeed his goddess. He passed that forward many ways, including by supporting farmers themselves and the 4-H Club.
Helm had an Aquarius Moon, and in many ways his life was about groups. He was in many bands, then for the past 15 years, he held gatherings called Midnight Rambles at his barn in Woodstock, NY. The events were fundraisers to help pay his medical bills. That to me is the best argument for universal health care that I've heard all day.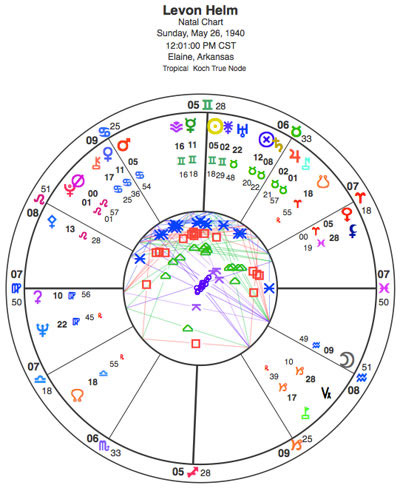 Helm had Venus, Mars and Chiron in Cancer, giving his voice a warm sensation that went beyond 'folksy' into an emotional poignancy that felt like he was singing across the ages. In "The Weight," he delivers the mysterious lyrics in such a sensitive, straightforward way that you don't notice anything strange is going on — until you listen carefully. You can hear two renditions of "The Weight" here, and read an article about the song that Planet Waves published in 2009.
One New York Times reader commenting on Helm's obituary wrote, "The way he sang made me feel he was reporting stories he had witnessed or experienced in some other time and place, but in a way that made them seem to come alive again — he could really transmit an immediacy and vibrancy."
Singer and friend of Planet Waves Rosanne Cash (herself a Gemini with solid Taurus) said she recalls singing "The Weight" with Helm at an American Musical Association event a year or so ago [see video]: "My whole body was tingling throughout the song. I didn't want it to end. It was like going back in time to revisit some of the searing musical moments that made me want to become a musician. Levon was so sweet, so full of light. … I'm heartbroken he has moved on to 'find a place where he can lay his head.' But I hope he found it."
==
Rob Fraboni, who worked for 10 years as The Band's sound engineer, recently gave an interview on Planet Waves, telling many stories from their career. You can listen to that here. Here is a New York Times picture gallery honoring Levon.