The First Virtual Reality Impeachment, Robert Hunter Tribute and an Introduction to Jealousy and Compersion
Use this link if you're listening on an iOS or mobile device.
Dear Friend and Listener:
Before I introduce tonight's particularly lavish program, I'm here to remind you that Planet Waves FM is sponsored by your donations to a little nonprofit called Chiron Return. If you come back every week and listen, please make a one-time or ongoing donation. In our time of call-outs for personal integrity, investing in what you love and in what supports you, is an, essential piece of that dharma.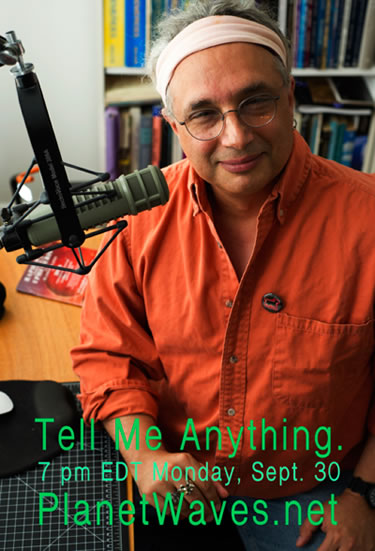 Also: I will be doing a live edition Monday at 7 pm EDT. We're calling this "Tell Me Anything" — meaning, about your reality. I'm happy to field questions as well.
About Tonight's Show
As for tonight's extended program — extended mostly by music — I describe in some detail the astrology of the imminent presidential impeachment. With a little help from Mark Zuckerberg (not a lot, just a little), I put us on the map of virtual reality/augmented reality and consider the impact on what we're about to experience. You may read the call notes here, and the whistleblower memo here.
Tantra Studio [which starts at 2:30] is an introduction to jealousy and compersion. This is a coherent, focused discussion on the topic of what jealousy is, how to handle it, and what this other thing called compersion is. Here is Jealousy and the Abyss by William Pennell Rock.
As regards Robert Hunter, principal lyricist for The Grateful Dead, who left us one week ago, here are two resources: The Annotated Grateful Dead Lyrics, and the whole Barton Hall concert on Archive.org or " target="_blank" rel="noopener noreferrer">YouTube.
With love,



PS — Here is the Monthly Horoscope.